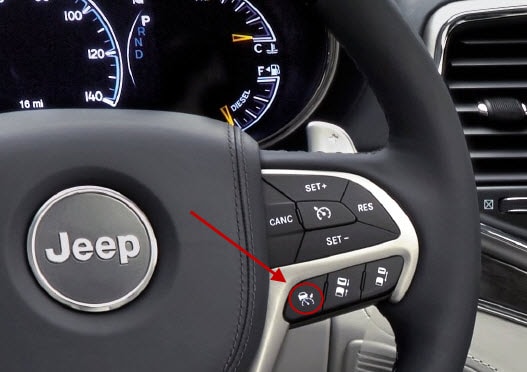 The Jeep Adaptive Cruise Control System (ACC) is a convenience on long trips and other occasions where you might need to rest your foot and let your SUV take control. ACC builds on standard cruise control by automatically adjusting your following distance so that you don't constantly have to change speeds yourself.
Here's a step-by-step guide to using ACC as well as Jeep's standard cruise control system.
How to Use Jeep Adaptive Cruise Control
When you're at the speed you'd like to set, push the ACC On/Off button (located below the standard cruise control buttons) and click SET+ or SET- to active the system.


To change the distance between yourself and the car ahead, use the ACC Increase and Decrease buttons located right next to the On/Off button. Keep in mind that even if there's no car ahead of yours at present, if a vehicle does merge in front of you, the distance setting will kick in.


If the driver ahead of you comes to a full stop, JEEP ACC will bring your car to a complete stop, too. However, please remember that the driver is always responsible for avoiding collisions and you should manually brake if you feel it necessary.


If the stopped car ahead of you moves within two seconds, your Jeep will automatically begin to accelerate. If not, you need to reactivate the system.


To deactivate your Jeep's Adaptive Cruise Control, press the ACC On/Off button.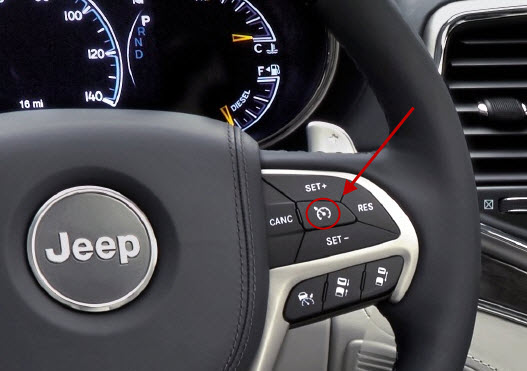 How to Use Jeep Cruise Control (Standard System)
Press the standard cruise control button on your steering wheel and then accelerate to the speed you'd like to cruise at and click SET+ or SET-. Take your foot off the accelerator and your Jeep will take over.


If you set the speed while driving below 20 mph, the cruise control system will automatically default to 20 mph as this is the lowest speed setting available.


You can adjust your speed using the SET+ or SET- buttons. Hold the buttons down to change speed in 5 mph increments or tap to change by 1 mph at a time.


When you want to deactivate the standard cruise control system, simply press the brake pedal or hit CANC on the steering wheel. When you want to resume cruising, if you hit RES the system will bring you back to the previously set cruise control speed.


To completely disable standard cruise control, press the On/Off button again.
If you have further inquires about how to use your Jeep Grand Cherokee, Cherokee, Patriot, Compass, Wrangler or Renegade cruise control or ACC systems, please call or email us online. To browse new Jeep models with adaptive and standard cruise control, browse inventory on our website.