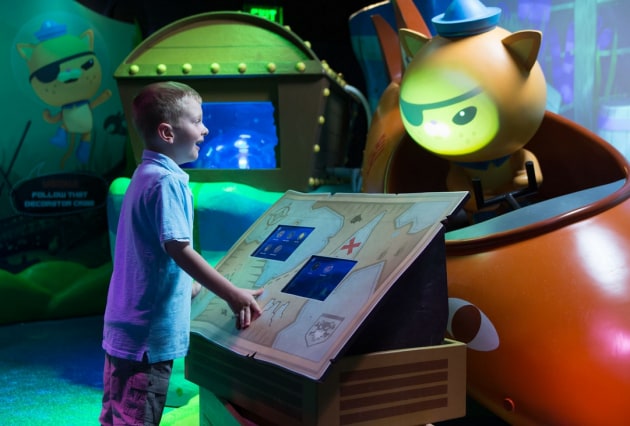 Location:
Sea Life Grapevine Aquarium
3000 Grapevine Mills Pkwy
Grapevine, TX 76051
Hours:
10 a.m. - 6 p.m. daily
Details:
Now at an aquarium near you, Sea Life's newest undersea exhibit offers oceans of fun for children and those young at heart. If your kiddos are fans of "The Octonauts," a popular animated TV program, you won't want to miss the new Sea Life exhibit inspired by the show. Dubbed "The Ultimate Octonauts Experience," the exhibit gives kids the opportunity to save the world's oceans through several fun and interactive missions.
Your little ones will love working with the Octonauts team! They can help Kwazii rescue a runaway crab and find his long-lost treasure, along with exploring a mysterious cave with Captain Barnacles! They can also assist Peso with cleaning a coral reef to make sure the many sea creatures that depend on it are protected.
While exploring underwater worlds, your kids will not only learn about awesome aquatic creatures but also environmental protection. Additionally, there are photo opportunities when you step aboard the Gup-E and several themed displays with aquatic animals are featured.
"The Ultimate Octonauts Experience" opened on Earth Day, April 22, and runs through Dec. 22. To learn more and purchase tickets, visit the official event website.
Admission:
$20 for adults
$16 for children 3- 12
Free for kids 2 and under