How to Remove A Hard Top On A Jeep Wrangler
A Jeep Wrangler offers the type of versatility and adventure that you will simply not find in any other vehicle. One of the most dynamic features of a Jeep Wrangler are the removable hard tops. Here, we will show you how to remove the removable hard top for some serious driving fun.
There are three total hard top components on a Jeep Wrangler that includes two in the front and one in the back. The hard tops on the front are designed to be removed by one person. The hard top at the back will require two people. To remove the driver's side front hard top, step into the vehicle and unlock the two latches at the front of the hard top. Then unlock the two latches at the back of the panel. There are four latches in all. After the four latches have been turned, then unscrew the knob located behind the hard top. Keep unscrewing the knob until it comes out. Place the knob in the center console and then remove the hard top. Repeat the same process for the driver's side hard top. Note that you should always start with the driver's side hard top since that component overlaps with the passenger's side hard top.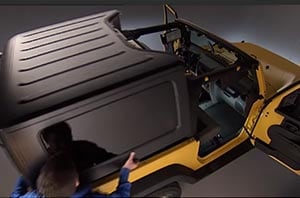 To remove the rear hard top, you will need a wrench with a torch bit to remove the bolts located at the front of the panel and inside the back of the cab. After you remove the front bolts, you will want to unhook the line that feeds the windshield wiper and the wiper fluid. On the interior, there are six bolts that need to be removed. Three bolts are located on one side of the panel and the other three bolts are located on the other side of the panel. Once, the bolts are removed, then two people will be needed to lift the back panel off of the vehicle.
You are invited to test drive the 2019 Jeep Wrangler at Richardson Chrysler Jeep Dodge Ram. Our experienced sales staff looks forward to showing you the incredible features of the 2019 Wrangler. Do not delay. Our popular Wrangler models are moving fast.