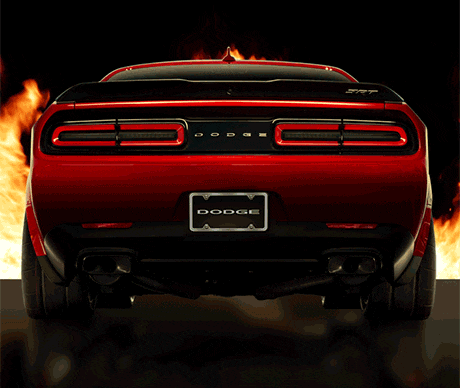 Wave the checkered flags! There's official word that the new 2018 Dodge Challenger SRT Demon will get an industry-exclusive driving mode that enables it to use 100+ high-octane race gas. With a quick press of the High Octane fuel button, the sports car's 6.2-liter supercharged Hemi V8 will be ready to face the fire on track days.
Having the ability to use 100+ high-octane gas ensures that the car's engine is well-protected in the heat of the moment. In rigorous driving situations, 100+ octane fuel helps prevent knocking (or pinging) and safeguards the engine from potentially catching fire when compression is at its maximum.
Dodge says 100+ octane fuel is also needed to hit the car's top power rating, which will be far more than the Dodge Challenger SRT Hellcat's 707 horsepower, according to sources.
With one gas tank, you can expect some 91-octane premium fuel to mix in with the 100+ octane, however it won't do any damage to the car's engine. Additionally, Dodge says the Challenger SRT Demon will use an advanced powertrain control module (PCM) that monitors the car's engine knock sensors.
PCM monitoring gives the Challenger Demon the ability to detect when the octane level is too low for High Octane mode, in which case an alert will appear in the instrument cluster and the car will return to using regular gas. High Octane mode also won't activate if the octane level is too low.
Along with an exclusive High Octane mode, the Dodge Challenger SRT Demon will also include two fuel pumps and bigger fuel injectors, unlike the Hellcat. Keep an eye on our blog for even more details about the new model as its release approaches.