About the Ram 2500 in Dallas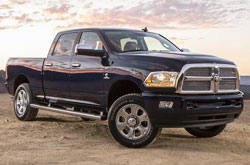 There are people who drive trucks and people who live trucks. People who live trucks won't settle for anything less than the no-excuses maximum power of the Ram Heavy Duty series 2500 and 3500 trucks. The Ram Heavy Duty was first introduced in 1981, and from the very beginning, they were available with something the competition couldn't boast: an innovative and powerful Cummins turbo-diesel engine. Four generations of trucks later, the Ram Heavy Duty is still powering ahead of the competition with its direct-injection fuel system, turbocharger, and greater power outputs than the other guys.
2015 Ram 2500 and 3500 reviews note these Heavy Duty versions borrow some styling cues from the handsome Ram 1500 series truck, and while these beefy brothers show the family resemblance, they're also engineered for tougher work. With a maximum tow rating approaching 18,000 pounds and a maximum payload of nearly 4,000 pounds, the 2015 Ram 2500 is certainly well qualified for heavy pulling and hauling. The 2015 Ram 3500 is a one-ton hunk of pure automotive muscle that is rated at a class-leading 30,000 pounds of towing might, when properly equipped. Yeah, the 2015 Ram 3500 is the most powerful heavy-duty truck on the planet.
The world-class hauling and towing power of these trucks is one thing, but a truck is only as strong as the steel it's built on. Ram uses 50 KSI hydroformed steel frames incorporating additional crossmembers for strength and mass efficiency as well as hydroformed front and rear rail contours for a more secure placement of suspension components and mounts.
The standard Ram-exclusive rear suspension system helps reduce overall friction in the system without sacrificing heavy-duty towing capability. The result is improved turning and an enhanced ride that gives the driver confidence on every surface.
Check out the Ram 2500 and 3500 HD trucks in Richardson. You will be astounded that with all that brawn, the Heavy Duty trucks are not short on the technological amenities. In fact, with the largest-in-class available 8.4-inch touchscreen, available SiriusXM Satellite Radio, WiFi Hotspot, Uconnect Voice Command with Bluetooth, available navigation and more all in a crisp, full-color display, your Ram truck becomes a wired office on the move.
If you have some heavy hauling to do and you want to look good doing it, 2015 Ram 2500 and 3500 reviews say you should run, not walk to your nearest Ram dealership and take a look at the 2015 Ram truck lineup. On the other hand, if you're willing to settle for less, there will probably be someone with a Ram Heavy Duty to pull your lesser truck to safety. See the 2015 Ram 2500 and 3500 in Richardson at Richardson Chrysler Jeep Dodge Ram.